DATA CENTER CLEANING
Home
::
Data Center Cleaning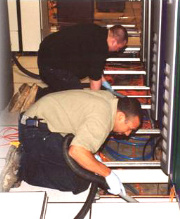 Data Center Cleaning
Professional, periodoc maintenance in computer rooms reduces the risk of equipment failure and the resulting loss of data availability. ABP offers a computer facility cleaning service that utilizes employees (not temporary workers) that are trained in the proper handling and management of raised flooring, cables, and security systems in these critical areas. Please contact us for detailed information.
Data Center Cleaning Brochure >>
Home | About | Power Management Components / UPS | Thermal Containment / Cooling Solutions
Server Enclosures | Data Center Infrastructure Management | Data Center Cleaning | Raised Flooring
Environmental / Physical Monitoring Solutions | RFID Asset Tracking | KVM / Serial Switches
Site Map | Contact