RAISED FLOORING
Home
::
Products
::
Raised Flooring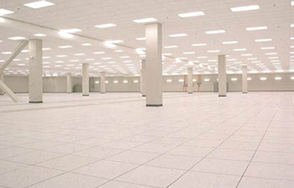 View our Product Line Card >>
ABP has an expert staff ready to meet your data center raised flooring needs. We will install, replace and/or repair raised flooring to your specifications. Installation is available thoughout the United States. We can also make recommendations on improving air flow in your under floor plenum i.e. High Output Perforated Tiles, Koldlok / Cool Balance Grommets, Under Floor Partitioning, etc.
We specialize in ASM Flooring products. New and refurbished panels are available.
More Information On:
Koldlok Product Gallery >>
Triad AirFlow Panel >>
PolarDAM™ Air Dam Foam >>

Home | About | Power Management Components / UPS | Thermal Containment / Cooling Solutions
Server Enclosures | Data Center Infrastructure Management | Data Center Cleaning | Raised Flooring
Environmental / Physical Monitoring Solutions | RFID Asset Tracking | KVM / Serial Switches
Site Map | Contact